Nesting Baskets and Dollies
Each dolly is equipped with 8″ x 2″ phenolic casters which can be used for both processing and freezing.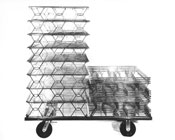 Smoking, cooking, chilling, storing or just transporting your product will be made easier with Beacon's Nesting basket and Dollies. Each basket stacks on top of the one below it, but nest inside each other to minimize storage space when not in use.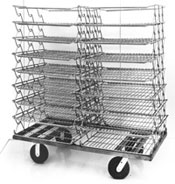 Our shur-trac screen design makes it easy to load and unload product from each level. The heavy-duty rod frame on the baskets and tubular frame on the dollies, make the system last for years to come.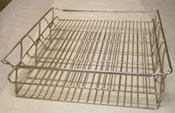 Stainless steel Insert Screens option available. The insert screen allows the processor to double their capacity when processing smaller products. The insert screen is designed to split the Nesting Basket in half. It is like having two screens in one basket.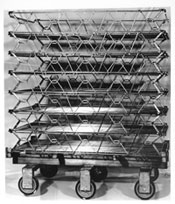 Beacon also has designed and manufactured an array of special sizes and designs for both the Nesting Baskets and Dollies. Let us know what you need, and Beacon will engineer the perfect unit.